Just the beginning for Kyrie Irving
Greatness not far behind as Cavs' wunderkind takes All-Star Weekend by storm
Originally Published:
February 16, 2013
HOUSTON – Kyrie Irving came to All-Star Weekend on a mission to make fans take notice of his remarkable talent.
The second-year Cleveland Cavaliers guard certainly has a way of getting everyone's attention.
After scoring 32 points in the Rising Stars challenge on Friday, Irving followed up on Saturday with a near record-setting effort to win the 3-Point Shootout. Next up on Irving's agenda: his debut in Sunday's All-Star game.
"This weekend was just basically about earning everybody's respect and getting a chance for people to see me that usually don't see me," said Irving, the No. 1 overall pick in the 2011 NBA draft. "We're not nationally televised like some other teams. This weekend is to show my face and get everybody acclimated to my face in the league."
[+] Enlarge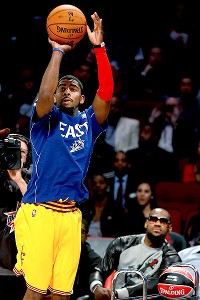 Scott Halleran/Getty ImagesThe future is bright for 3-point champion Kyrie Irving.
Get used to that face.
During one of his promotional appearances to kick off All-Star Weekend, Irving found himself visiting a local school on Friday to surprise students. The 20-year-old Irving blended so well with the youthful group that they recruited him to stay long enough to attend a school assembly.
"The connection I had … I'm still a young kid myself," Irving said. "Their spirits are awesome; it's just like mine."
When it comes to learning lessons in the NBA, Irving has proved to be a quick study. Already one of the most exciting point guards in the game, Irving continued his meteoric rise that should only continue when he takes the court with the league's marquee superstars on Sunday.
Irving insists he'll be as comfortable on the court alongside LeBron James, Carmelo Anthony and Kobe Bryant as he was Saturday when he calmly outperformed San Antonio's veteran sharpshooter Matt Bonner in the final round.
Irving came within two points of tying a shootout record when he outscored Bonner, 23-20, to emerge with the gold ball trophy. With Saturday's win, Irving built on a résumé that already includes an MVP performance in the Rising Stars game during All-Star Weekend last season.
A recent stretch of dominant play with the Cavaliers could have landed Irving a spot in the East's starting lineup as a replacement for injured Boston Celtics guard Rajon Rondo. Irving has scored at least 30 points eight times, which includes two 40-point outings, this season in Cleveland.
Irving has drilled 3-pointers from the top of the key in the final seconds to win games on two occasions, including a dramatic victory earlier this month at home against Oklahoma City. It's in moments such as those when Irving proves he belongs in the discussion among the league's elite players.
Yes, already.
The main reason he won't start Sunday is because Miami Heat coach Erik Spoelstra remained loyal to his own player and decided to promote Chris Bosh as the replacement. Bosh will join Heat teammates James and Dwyane Wade alongside Carmelo Anthony and Kevin Garnett.
But one of the most anticipated moments in Sunday's game will come the moment Irving checks into the game with his devastating speed and ballhandling ability. His crossover move was so lethal on Friday night that it made Detroit Pistons guard Brandon Knight fall to the floor in what has been easily the biggest highlight of the weekend so far.
Irving said Saturday he hasn't targeted anyone on the West roster for his next signature move Sunday. But he doesn't plan on holding anything back when he takes the court.
"Absolutely," Irving said. "I only know one way to play, and that's hard. Every award and everything I do at All-Star Weekend is dedicated to the Cavaliers organization."
Well, that would be everything except, maybe, giving Cleveland coach Byron Scott all the credit for helping Irving with his 3-point shooting. Scott, who competed in the shootout three times during his NBA career, had a few shooting competitions after recent Cavaliers practices to get Irving prepared for Saturday's competition.
Irving, who is shooting 42.5 percent from 3-point range this season, felt he was doing just fine on his own. Apparently, there was some legendary trash talk between the coach and the prized player during those post-practice sessions.
Sitting near his trophy late Saturday night, Irving was asked what message he had for Scott after the victory.
"I can now give myself my own advice," Irving joked. "I feel like I was a darkhorse in this competition. I just wanted to go out and prove a point that I was one of the premier shooters out here with all of these guys."
Despite his rapid development, Irving said there are still moments he has to slow down and take in everything.
"Sometimes, when I'm alone and I'm watching 'SportsCenter' or NBA TV, it's a surreal moment," Irving said. "I do have some surreal moments at times. It's a blessing and an honor to be recognized as one of the great players in the league."
Irving is already really good.
At this rate, greatness won't be too far behind.